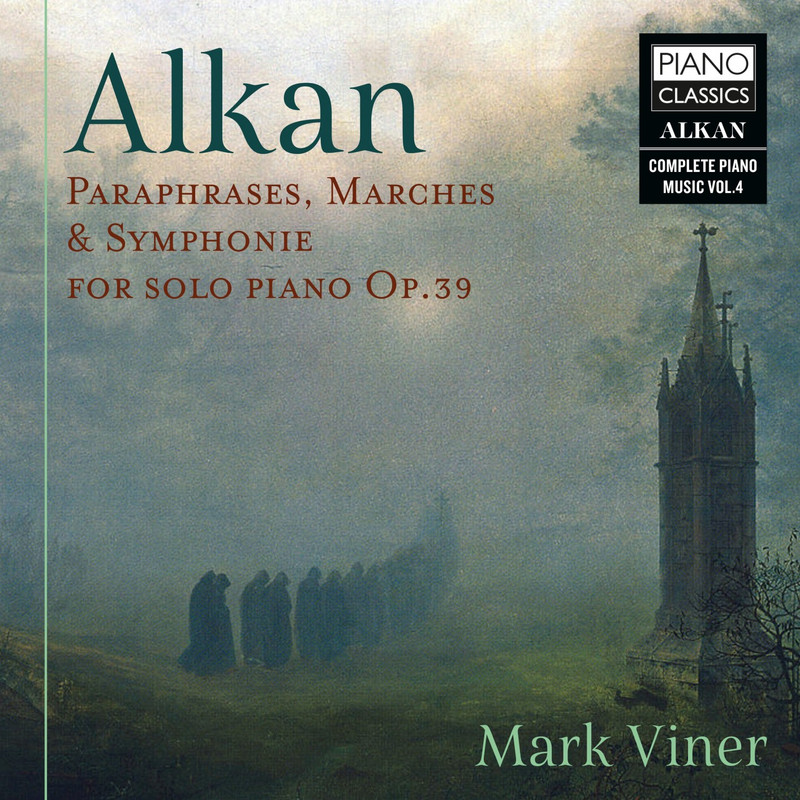 Mark Viner – Alkan: Paraphrases, Marches & Symphonie for Solo Piano, Op. 39 (2021)
FLAC (tracks) 24 bit/96 kHz | Time – 01:11:32 minutes | 1,1 GB | Genre: Classical
Studio Masters, Official Digital Download | Digital Booklet, Front Cover | © Piano Classics
British pianist Mark Viner continues his complete Alkan-cycle with the 4th volume, containing one of the most extraordinary piano works of the 19th century, the Symphony for piano solo. It is one of Alkan's most darkly impassioned conceptions, its declamatory rhetoric, passionate outbursts and towering climaxes all bound by a tightly organised structure. The sometimes ten note chords, thick, chordal tremoli and volleys of double octaves create a truly symphonic sound spectrum.
Also included are the Three Marches 'quasi da cavalleria' Op. 37, the haunting Funeral March Op. 26 and the festive and pompous Triumphal March Op. 27.
Mark Viner's complete Alkan cycle is gaining widespread international attention. The 3rd volume, containing the massive Grande Sonate, received the prestigious Gramophone Award, as well as CD of the Month in International Piano.
'For the second disc in his gargantuan 17-CD project of recording all Alkan's music Mark Viner gives us the 25 Préludes with an exemplary musicianship and assurance…makes you eager for further issues from this outstanding and most enterprising pianist' (Bryce Morrison in International Piano). Viner's previous recording of the Alkan Etudes Op 35 received 5 stars and CD of the Month in BBC Music Magazine as well as 5 stars in The Guardian ('Viner rises to Alkan s extraordinary challenges').
"Mark Viner's mould-breaking survey of Alkan's complete piano music reaches its fourth volume (17 are projected) with this astonishing account of the technically forbidding, tautly structured Symphonie for solo piano, published as part of the 12 Op 39 Etudes. Viner makes light of all challenges, his sound never forced, his shaping always cogent, and he makes convincing cases for slighter pieces (two paraphrases, five marches, an Alleluia), where Alkan often tempers bombast with hints of Satie-like wryness. Stephen Pettitt." (The Sunday Times)
"Four years ago, Mark Viner began his survey of Charles-Valentin Alkan's piano music for Piano Classics with an outstanding account of the fiendishly demanding Études in All the Major Keys, Op 35, the epitome of keyboard transcendentalism. The main work on his latest disc (the fourth in a projected series of 17) is another of Alkan's greatest achievements, the Symphonie that forms four movements of his Op 39, the 12 Études in All the Minor Keys, a set that also includes the Concerto for solo piano and a final huge set of variations, Le Festin d'Ésope.
"The Symphony is music of immense technical complexity – ferocious double octaves, massive chordal explosions, vertiginous scales – with occasional moments of quiet lyricism, and Viner negotiates it all with wonderful aplomb and just the right amount of swagger. He doesn't spare himself on the rest of the disc either, in a sequence of marches and two programmatic paraphrases, all dazzlingly played." (The Guardian)
Tracklist:
1. Salut, cendre du pauvre!, Paraphrase, Op. 45 (08:19)
2. Super flumina Babylonis, Paraphrase, Op. 52 (06:11)
3. Trois marches quasi da cavalleria, Op. 37: I. Allegro molto (05:05)
4. Trois marches quasi da cavalleria, Op. 37: II. Allegro vivace (04:34)
5. Trois marches quasi da cavalleria, Op. 37: III. Allegro (04:54)
6. Alleluia in F Major, Op. 25 (02:34)
7. Marche funèbre, Op. 26 (08:28)
8. Marche triomphale, Op. 27 (04:57)
9. 12 Etudes dans tous les tons mineurs, Op. 39 Nos. 4-7 "Symphonie": I. Allegro moderato (10:36)
10. 12 Etudes dans tous les tons mineurs, Op. 39 Nos. 4-7 "Symphonie": II. Marche funèbre. Andantino (05:57)
11. 12 Etudes dans tous les tons mineurs, Op. 39 Nos. 4-7 "Symphonie": III. Menuet (05:39)
12. 12 Etudes dans tous les tons mineurs, Op. 39 Nos. 4-7 "Symphonie": IV. Finale. Presto (04:18)
Download:
mqs.link_MarkVinerAlkanParaphrasesMarchesSymph0nief0rS0l0Pian00p.3920212496.part1.rar
mqs.link_MarkVinerAlkanParaphrasesMarchesSymph0nief0rS0l0Pian00p.3920212496.part2.rar