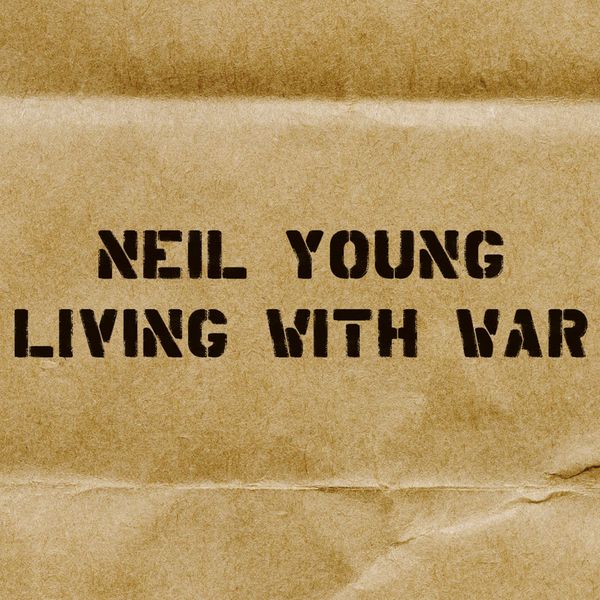 Neil Young – Living with War (2006)
FLAC (tracks) 24 bit/192 kHz | Time – 41:47 minutes | 1,38 GB | Genre: Rock
Studio Masters, Official Digital Download | Front Cover | © Reprise
The main elements of Neil Young's music are manageable and well-known: a few chords, distorted or acoustic guitars,a high, strained voice and lyrics that make you think. Since the songs from the Canadian are just so bubbling out, better albums line up with less good ones. Due to the appearance of his works in an annual rhythm, the different quality can only be managed with patience.
Statistically speaking, the rather weak-chested "Greendale" (2003) and "Prairie Wind" (2005) had to be followed by another record, which makes us sit up and take notice. The mathematical calculation is correct this time: titles such as "Living With War" and "Impeach The President" indicate that Young once again has the desire to choose explicit words.
Very promising: amplifier on, riff with three chords, drums, voice. "We will not need shadowmen to govern. We won't need a fucking war," Young says in "After The Garden". The subject is outlined: it is about Iraq and the solution to a human and political catastrophe.
"Every day I live with the war. Every day I live with war in my heart. Even now, in this moment, I am living with war," says the title track. Who is to blame for this situation? On the one hand, advertising and the big corporations with their false promises ("The Restless Consumer", on which Young takes the side of the globalization opponents), but above all politics. "In the days of 'mission accomplished' our boss landed on an aircraft carrier. The sun set over a golden PR backdrop. In the days of 'Mission accomplished'".
The" boss " is, of course, George W. Bush. "The president should be deposed because he lied and led our country unnecessarily into war. He has abused the power we have given him. He has squandered all our money. Who is the man who hired all these criminals? The shadows in the White House, behind closed doors, reshaping the facts until they fit their explanation of why we must send our men to war, " reads the first two stanzas of "Impeach The President." And so it goes on, garnished with Bush quotes in the original tone.
Of course, one could argue here that a) Young is only an electoral Ami, and b) that not only men but also women are stationed in Iraq. But this went beyond the concept: the Iraq War is a global issue that originated and ended in Bush. With another president, the matter would have been completely different, Young is convinced. "Among us there is a strong and honest man who can lead us out of desolation … I hope that he will follow his vocation. Maybe this time it's a woman or a black man," he wishes in "Lookin' For A Leader". A formulation that explicitly excludes Condoleezza Rice.
Young calls his latest product a "Metal Folk Protest" album. Metal might be a bit exaggerated, but at least he unpacks the effect device, which already creaked on "Ragged Glory" and the B-side of "Rust Never Sleeps". While Chad Cromwell (drums) and Rick Rosas (bass) act in the background, two suspicious elements are added at first: a trumpet and a 100-piece choir. Those who still remember "Landing on Water" – Nomen est Omen-will shrug in horror, but the voices fit surprisingly well with the guitar and Young's accusations. Especially the vocal accompaniment gives the impression that this is a popular movement – which was probably also Young's intention.
Not by chance is also the simple design of the cover and booklet, which appear as described brown paper bags-the content is apparently so explosive that it should only be packaged under the counter and anonymously. From a European point of view, Young certainly does not present any unheard-of thoughts, but such an explicit attack on politics comes as a surprise, especially since he has behaved suspiciously quietly in this respect in the past.
With so much brain work, it would be presumptuous to expect revolutionary new melodies – after all, it took Young just two weeks to write the lyrics and record the record. Again and again the familiar shines through, most clearly in "Shock And Awe", which generously makes use of "The One I Love" by R. E. M. But Young also quotes himself, for example with" Flags Of Freedom", which in places sounds like a distorted version of" Thrasher". "Roger And Out" recalls Bob Dylan's "Knockin' On Heaven's Door" and his own "Keep On Rockin'", while "Families" features Bruce Springsteen.
Young's solution to the burning leadership problem is: improvement through change. "America is beautiful, but it has its ugly side", he sings in "Lookin' For A Leader". Hope lies in the country's self-cleansing power and support from above. So it is logical, if a bit corny, that the choir puts its best foot forward at the end and starts the first verse of the traditional "America The Beautiful". "America, America, God shed His grace on thee / And crown thy good with brotherhood from sea to shining sea" are the last words of the album. If even Neil Young requests God's help, the situation must be pretty much done.
Tracklist:
1. Neil Young – After the Garden
2. Neil Young – Living with War
3. Neil Young – The Restless Consumer
4. Neil Young – Shock and Awe
5. Neil Young – Families
6. Neil Young – Flags of Freedom
7. Neil Young – Let's Impeach the President
8. Neil Young – Lookin' for a Leader
9. Neil Young – Roger and Out
10. Neil Young – America the Beautiful
Download:
mqs.link_NeilY0ungLivingwithWar200624192.part1.rar
mqs.link_NeilY0ungLivingwithWar200624192.part2.rar