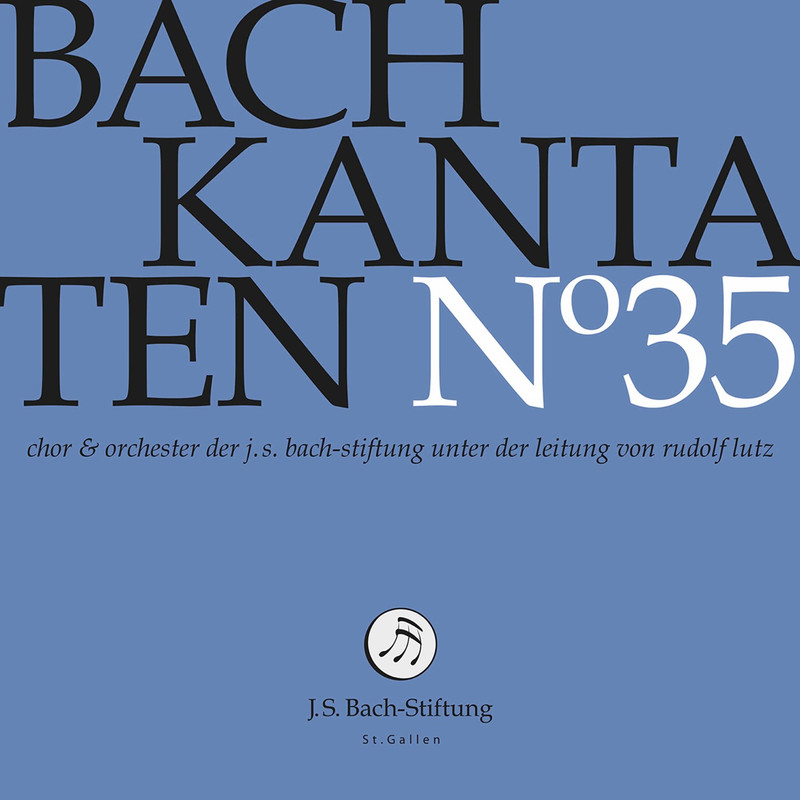 Orchester der J.S. Bach-Stiftung & Rudolf Lutz – Bach Cantatas, Vol. 35 (Live) (2021)
FLAC (tracks) 24 bit/44,1 kHz | Time – 01:19:38 minutes | 797 MB | Genre: Classical
Studio Masters, Official Digital Download | Digital Booklet, Front Cover | © J.S. Bach-Stiftung
For once, a recitative is the focus of a cantata. In BWV 47, the opening chorus, two arias, and the final chorale are grouped around the central statement "Mankind is dirt, stench, earth and ashes," which can hardly be surpassed in clarity. It takes a soloist with a powerful voice and experience of life to get the message across credibly!
Tracklist:
01. Bach: Ich hatte viel Bekümmernis, BWV 21: No. 1, Sinfoinia (Live)
02. Bach: Ich hatte viel Bekümmernis, BWV 21: No. 2, Ich hatte viel Bekümmernis in meinem Herzen (Live)
03. Bach: Ich hatte viel Bekümmernis, BWV 21: No. 3, Seufzer, Tränen, Kummer, Not (Live)
04. Bach: Ich hatte viel Bekümmernis, BWV 21: No. 4, Wie hast du dich, mein Gott (Arr. for Soprano) [Live]
05. Bach: Ich hatte viel Bekümmernis, BWV 21: No. 5, Bäche von gesalznen Zähren (Arr. for Soprano) [Live]
06. Bach: Ich hatte viel Bekümmernis, BWV 21: No. 6, Was betrübst du dich, meine Seele (Live)
07. Bach: Ich hatte viel Bekümmernis, BWV 21: No. 7, Ach Jesu, meine Ruh (Live)
08. Bach: Ich hatte viel Bekümmernis, BWV 21: No. 8, Komm, mein Jesu, und erquicke (Live)
09. Bach: Ich hatte viel Bekümmernis, BWV 21: No. 9, Sei nun wieder zufrieden, meine Seele (Live)
10. Bach: Ich hatte viel Bekümmernis, BWV 21: No. 10, Erfreue dich, Seele, erfreue dich, Herze (Arr. for Soprano) [Live]
11. Bach: Ich hatte viel Bekümmernis, BWV 21: No. 11, Das Lamm, das erwürget ist (Live)
12. Bach: Liebster Jesu, mein Verlangen, BWV 32: No. 1, Liebster Jesu, mein Verlange (Live)
13. Bach: Liebster Jesu, mein Verlangen, BWV 32: No. 2, Was ists, daß du mich gesuchet? (Live)
14. Bach: Liebster Jesu, mein Verlangen, BWV 32: No. 3, Hier in meines Vaters Stätte (Live)
15. Bach: Liebster Jesu, mein Verlangen, BWV 32: No. 4, Ach! heiliger und großer Gott (Live)
16. Bach: Liebster Jesu, mein Verlangen, BWV 32: No. 5, Nun verschwinden alle Plagen (Live)
17. Bach: Liebster Jesu, mein Verlangen, BWV 32: No. 6, Mein Gott, öffne mir die Pforten (Live)
18. Bach: Wer sich selbst erhöhet, der soll erniedriget werden, BWV 47: No. 1, Wer sich selbst erhöhet, der soll erniedriget werden (Live)
19. Bach: Wer sich selbst erhöhet, der soll erniedriget werden, BWV 47: No. 2, Wer ein wahrer Christ will heißen (Live)
20. Bach: Wer sich selbst erhöhet, der soll erniedriget werden, BWV 47: No. 3, Der Mensch ist Kot, Stank, Asch und Erde (Live)
21. Bach: Wer sich selbst erhöhet, der soll erniedriget werden, BWV 47: No. 4, Jesu, beuge doch mein Herze (Live)
22. Bach: Wer sich selbst erhöhet, der soll erniedriget werden, BWV 47: No. 5, Der zeitlichen Ehrn will ich gern entbehrn (Live)
Download:
mqs.link_0rchesterderJ.S.BachStiftungRud0lfLutzBachCantatasV0l.35Live24441.rar